Sráid Scoile
School streets
A Chairde,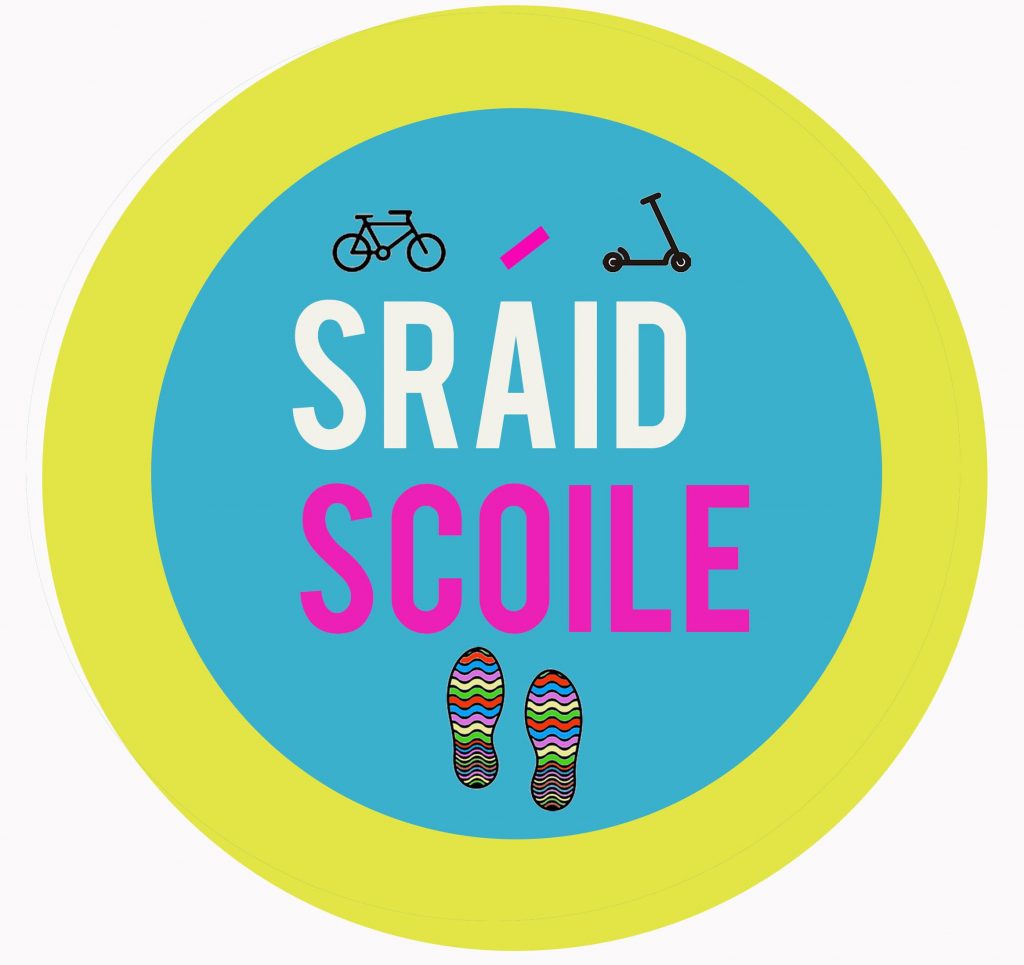 Tá áthas orainn a chuir in iúl daoibh go bhfuil Scoil Iognáid ag comh-oibriú le Comhairle Contae na Gaillimhe, Údarás Náisiúnta Iompair agus Scoileanna Glas (An Taisce) chun an chéad Sráid Siúl i nGaillimh, agus an dara cheann sa tír, a chruthú mar scéim píolóta. Is é a bheidh i gceist ná dhúnadh na mboithre atá aibhsithe thíos don trácht ag amanna scoile ionas gur féidir timpeallacht níos sábhailte a chruthaigh do thuistí agus a bpáistí agus iad a filleadh ar scoil, agus chun deis a thabhairt scaradh sóisialta ceart a dhéanamh taobh amuigh den scoil.
I am pleased to inform you that Scoil Iognáid is working with Galway City Council, the National Transport Authority and Green-Schools to create Galway's first, (and Ireland's second) 'School Street', as part of a pilot project. This will involve the formal closure of the highlighted roads below to vehicular traffic at school drop-off and pick-up times, in order to create a safer environment for children and adults and allow adequate social distancing immediately outside the school.
Amanna Sráid Scoile | Schools Streets times
Tá sé ceaptha go dtosnóidh an scéim seo go foirmiúlta i mí Deireadh Fómhair, ach idir an dá linn, tá muid ag iarr ar tuistí (seachas múinteoirí, cónaitheoirí agus lucht riachtanais speisialta) gan na mboithre aibhsithe sin a úsáid sa chárr nó feithiclí idir 08:15-09:15 agus 13:15-14:45.
It is anticipated that this initiative will commence formally in October, in the intervening time Scoil Iognaid is requesting that all parents (with the exception of teachers, residents and those with specific access requirements) do not enter the highlighted roads using cars/vehicles from 08:15 to 09:15 and 13:15 to 14:45.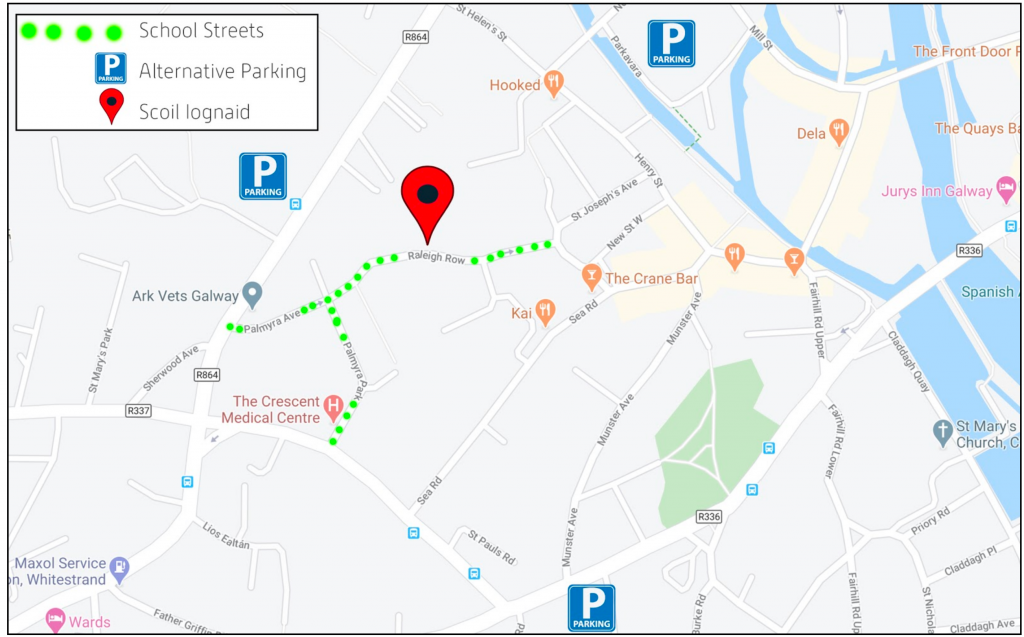 Cén fáth? What is the reason?
Iarrtar oraibh seo a dhéanamh mar tá muid ag iarraidh spás níos sábhailte a chruthú ar na fáthanna seo leanas:
Sábhailteach na mboithre in aice leis an scoil a fhorbairt ag na hamanna scoile ag tabhairt trácht, páirceáil agus réchasadh san áireamh.
Níeidh cead ag páistí fanacht sa chlós i ndiaidh na scoile.
Ní bheidh cead ag tuistí/caomhnóirí/siblíní teacht isteach sa chlós nó sa scoil.
This request is for the following reasons:
To improve the safety of the area at key times considering traffic, parking and vehicles idling.
It will no longer be possible for children to remain in the school yard after school.
Parents/guardians and non-essential visitors will not be permitted to enter the school grounds, therefore additional space is required outside the school gates.
Alternative parking areas
Le bhur dtoil, cur aithne ar na clósanna páirceáil roimh tosú na scoile ar 1ú Meán Fómhair.
Please familiarise yourselves with alternative parking areas before the return to school on Sept 1st.
Parkavera (5 mins walk)
Crescent Court/Joyce's Supermarket * (5 minutes walk)
The Crescent, Sea Road or Father Griffin Road.
The Cathedral (13 mins walk)
St. Mary's School (Pay and Display for 100 cars) facing St. Mary's Road.
* Please note that this is an official Galway City Council Park and Stride car park, so you must have a Park and Stride permit to park here. Find out how to register for this as per the details here.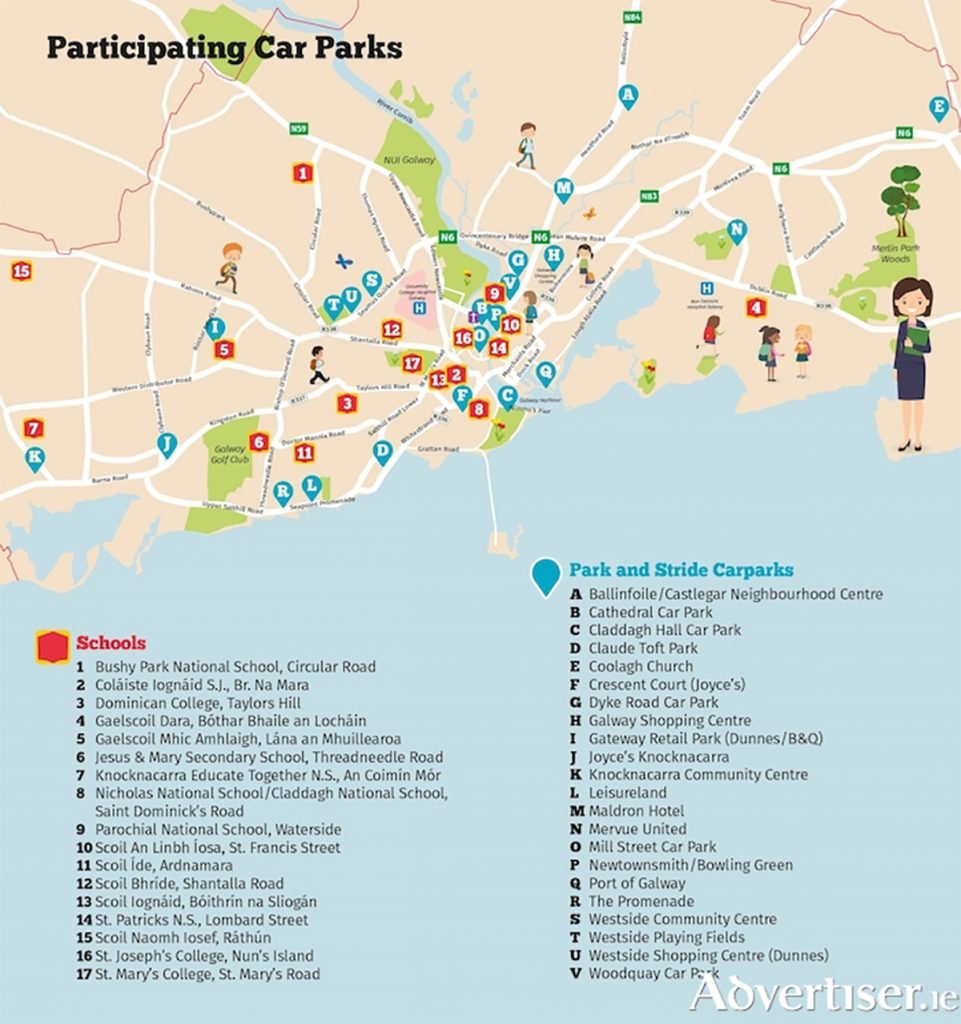 See more on Parent feedback