Phased return of in-school teaching and learning commencing 1st March
On Monday 1 March the first four class groups at primary level – junior and senior infants, first and second class students will return to in-school provision.
Monday 15 March is the target date for the return to in-school provision of the rest of primary school children – third to sixth class, and fifth year. This date will be reviewed during the period following 1 March.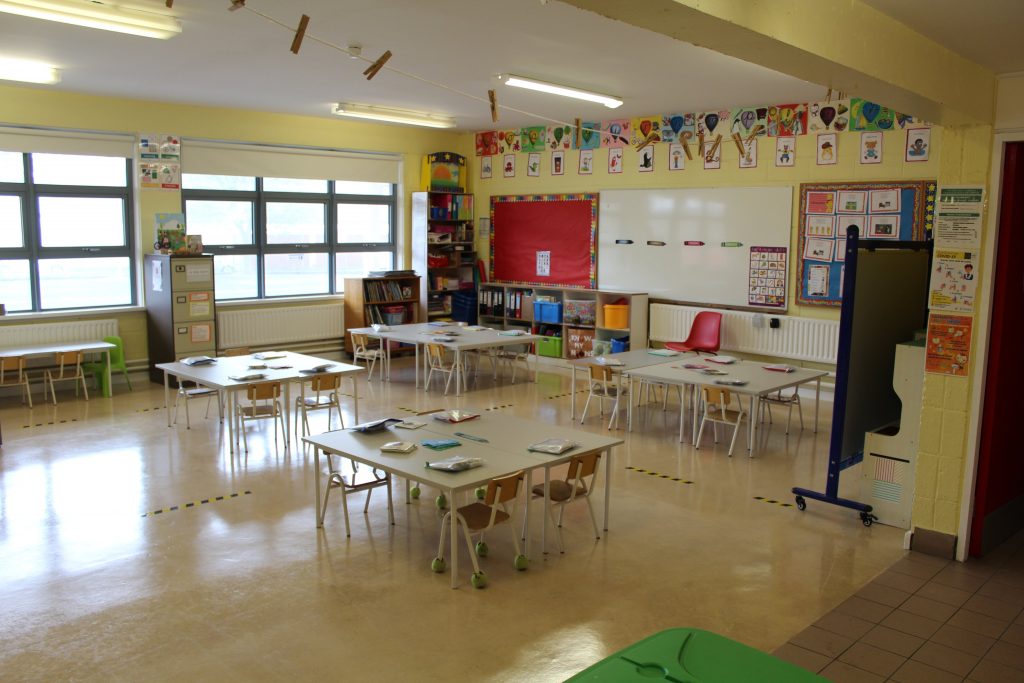 Message from an Príomhoide
Mar is eol daoibh beidh naíonáin bheaga – rang 2 ag filleadh ar an scoil ar an Luan seo chugainn 1 Márta. Beidh roinnt eolais ag teacht chugaibh faoi threoirlínte na roinne chun féachaint chuige go mbeidh athoscailt chomh sábháilte agus is féidir a bheith againn ar bun. Iarraim oraibh súil a choinneáil ar shuíomh idirlín na scoile anseo agus ar leathanach Twitter na scoile (@SIognaid) chomh maith le Aladdin Connect – cuirfear an t-eolas chun dáta agus treoir áirithe ar fáil sna meáin seo. Beidh na múinteoirí ar fáil ag a gcuid seoltaí rphost scoile agus beidh mise ar fáil ag priomhoide@scoiliognaid.ie nó ag 091-584491.
Dear parents, as you know junior infants to second class return to school on Monday 1st March. I will be furnishing you with a lot of information over the next few days in relation to the guidelines etc. that the Department of Education have provided for the safe and phased return of our students.
I ask that you keep a close eye on this school website our Twitter page @SIognaid and please ensure that you have downloaded the Aladdin connect app – this app along with the staff's official email addresses and our school phone number 091-584491 will be our primary method of communicating with you since in accordance with our Covid Response Plan .
Tá a fhios agam go bhfuil na múinteoirí agus mé fhéin ar bís lenár bpáistí a fheiceáil ar ais ar scoil! We are all looking forward to seeing our páistí back in school!
How will the return work for Junior Infants to Second Class children?
Drop off and Collection Arrangements
Socruithe Teachta agus Imeachta
Coinneofar leis na grúpaí A, B agus C a bhí againn i mí Meán Fómhair 2020 agus muid ag filleadh ar scoil.
We are returning to our initial staggered arrival and return times that were in place for September 2020.
Beidh naíonáin bheaga – rang 2 roinnte ina dtrí ghrúpa agus beidh am faoi leith ag gach grúpa, don tseachtain dár thús 1/03/2021
Junior Infants to Second Class will be divided into three groups for the week commenting 1/03/2021 and each group has an allocated time.
Grúpa A
Grúpa B
Grúpa C
Naíonáin
N1Katie,
N2 Norita
N1 Aoife,
N2 Bláthnaid/Mary Ellen
N1 Grace,
N2 Caoimhe
Rang 1 & 2
R1 Emilí,
R2 Sandra
R1 Caitríona,
R2 Cáit
R1 Caoimhe,
R2 Eimear
Am teacht ar scoil
8.30 am
8.50 am
9.10 am
Am imeachta Naíonáin
1.20pm
1.30 pm
1.40 pm
Am imeachta
Rang 1 & 2
2.10 pm
2.20 pm
2.30 pm
Baileoidh an múinteoir ranga na páistí ón gclós. Beidh an áit chéanna ag na páistí sa gclós ar maidin agus ag filleadh abhaile tráthnóna. Tabhair faoi deara go m'fhéidir go ndéanfar athbhreithniú ar na hamanna seo amach anseo. Ní féidir linn páistí a choinneáil ar chlós na scoile roimh agus théis scoile.
These classes will be collected in the infant yard by their teacher. The designated drop off point will be also their designated pick up point. Please note that times may be be revised sometime in the future. We cannot accommodate children being left on the school yard before and after school.
Due to how contagious the mutated versions are, it is important that children arrive and depart at their designated times and that parents wear masks at all times and do not congregate at the school gates.
Foirm um athfhilleadh ar Scoil
Return to education form
Beidh ar gach tuismitheoir foirm um athfhilleadh ar Scoil (return to Education Form) a bheas ar fáil ar Aladdin Connect.
A return to Education Form must be completed for each child.
This form will be available on Aladdin Connect on Sunday 28th February at 3 o'clock and must be sent back to the school through Aladdin Connect that evening. Please get in contact with Ursula an rúnaí if you have problems with using the app. See the screenrecording below for information on how to review this declaration, and send your confirmation to the school.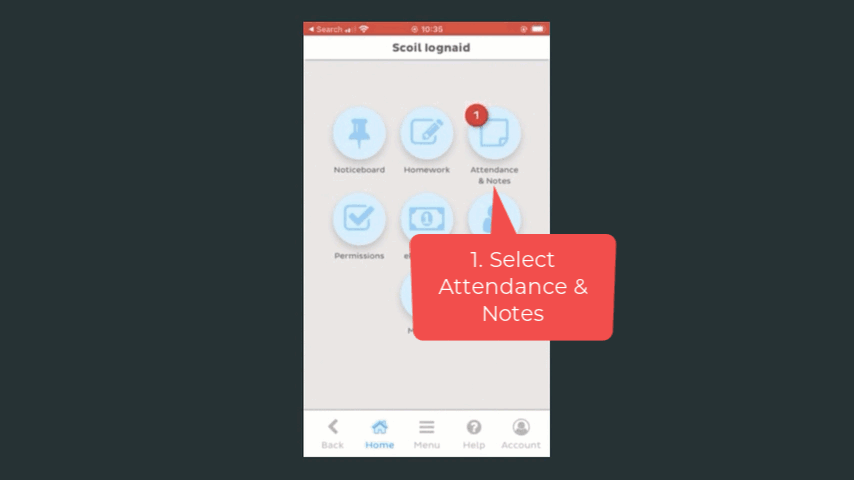 Section 5 of our Covid Response Plan
Tá meabhrú anseo ó Phlean Freagartha na Scoile (Roinn 5) agus treoirlínte an Rialtais maidir le socruithe na scoile in aghaidh scaipeadh an víreas: Please note the following from Section 5 of our Covid Response Plan specific to infection prevention control measures:
If your child has any symptoms of COVID-19, do not send them to school, and contact your GP:
Pupils that have symptoms must not attend school, parents should phone their doctor and to follow HSE guidance on self isolation,
Pupils should self isolate or restrict their movements at home if they display any signs or symptoms of COVID-19 and parents should contact their family doctor to arrange a test
Pupils should not return to or attend school in the event of the following:
If they are identified by the HSE as a close contact of a confirmed case of COVID-19
If they live with someone who has symptoms of the virus
If they have travelled outside of Ireland; in such instances parents are advised to consult and follow latest Government advice in relation to foreign travel.
In/outside of school
Pupils that develop symptoms at school to bring this to the attention of the class teacher/Principal promptly;
Parents of pupils should cooperate with any public health officials and the school for contact tracing purposes and follow any public health advice in the event of a case or outbreak in the school
Everyone entering the school building needs to perform hand hygiene with a hand sanitiser
Visitors to the school during the day should be by prior arrangement and should be received at a specific contact point
Arrangements for dropping off/collecting pupils should be arranged to encourage physical distancing of 2m where possible
Walking/cycling to school should be encouraged as much as possible
Parents must not congregate at the school gate. A distance of 2m should be maintained between parents and guardians and between parents and guardians and school staff.
Before returning to school parents must complete the Return to Education Form on Aladdin.
Pacáiste Phearsanta Sláintíochta/Personal Sanitation Packs
Ní mór do na páistí dighalrán, ciarsúir páipéar agus ceirtlíní a thabhairt leo ar scoil.The children should have their own personal sanitation packs in their school bags: hand sanitiser, tissues and sanitising wipes.
Masc Aghaidhe/Face Masks:
Tá go leor tuistí agus páistí an-imníoch faoin teacht ar ar ais ar scoil agus atá théis ceist a chur orm an bhfuil cead acu masc aghaidhe a chaitheamh. Beidh fáilte roimh pháistí ag caitheamh mascanna más mian leo. Féach thíos comhairle i leith an bealach ceart chun masc a chaitheamh.
Many parents and children who are very anxious about the phased reopening of school have contacted me in relation to the wearing of face masks. We encourage all children to wear a mask if they wish to do. Learn the correct way to wear a face mask below.
Obair baile
Níl aon athrú ar an gcomhairle ó shin, cúrsaí obair bhaile san áireamh.
There is no change in the advice given and the homework policy will also be reviewed in a fortnight's time.
Scoil Sráide
The Galway City Council's School Street Pilot is in operation on Raleigh Row. There is a free on-street parking within 1km of Scoil Iognáid, with a pink park and stride permit. Need a permit? Apply here and learn more about sráid scoile here.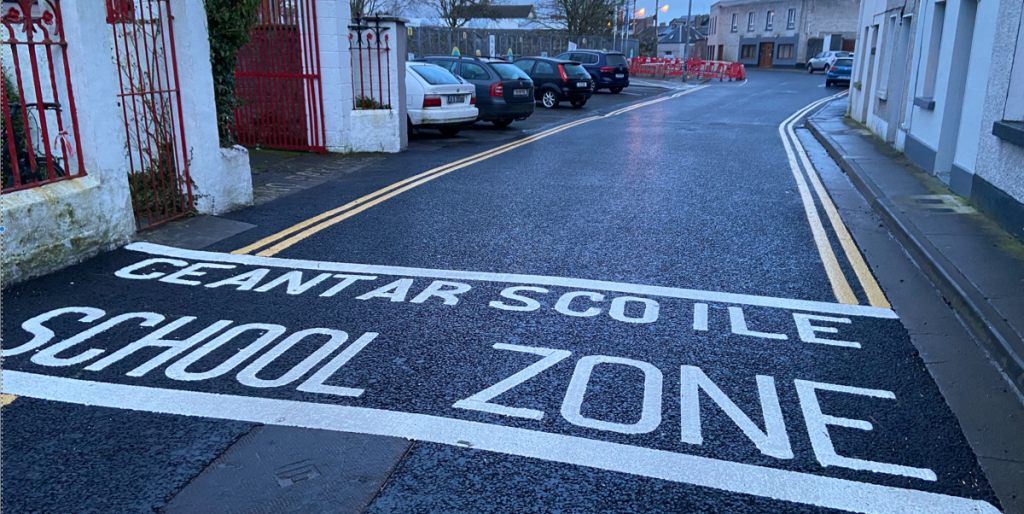 Additional Advice from gov.ie
Downloadable advice for parents
Safe Schools Advice for Parents
Advice for parents during COVID-19
Download
Returning to Primary Schools Junior Infants to 2nd Class – Advice for parents
Advice for parents during COVID-19
Download
Support for parents while schools are closed
Advice for parents during COVID-19
Download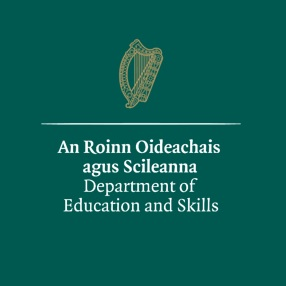 Letter from Norma Foley
Letter from Dr. Ronan Glynn, Deputy Chief Medical Officer