Advice on returning to school (for September 2021)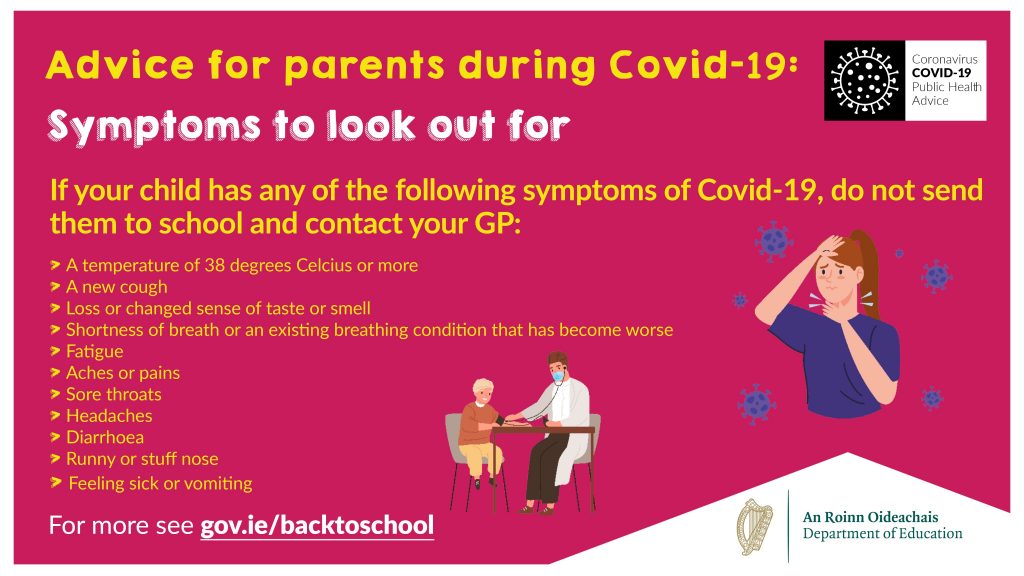 Drop Off and Pick Up Times and Procedures.
Drop Off@ 8.40 a.m. Pick Up N2/Senior Infants@ 1.30 i.n; Rang 1 – Rang a 2 @ 2.20 i.n.
Drop Off@ 8.50 a.m. Pick Up @ 2.30 i.n. Rang a 3 – Rang a 6
As Gaeilge
1. Físeáin le comhairle do thuismitheoirí agus do dhaltaí i ngach aoisghrúpa
Seo thíos ceithre fhíseán atá cruthaithe againn le comhairle a chur ar thuismitheoirí agus páistí bunscoile agus iar-bhunscoile faoi dhul ar ais ar scoil.
Comhairle do thuismitheoirí
Comhairle do dhaltaí naíonáin bheaga
Comhairle do dhaltaí naíonáin mhora go rang 2
Comhairle do ranganna 3 go 6
Tuilleadh eolais:
https://www.gov.ie/ga/foilsiuchan/comhairle-do-mhic-leinn-agus-a-dteaghlaigh/
---
In English
1. Video advice for parents and students at different levels
Below are guidance and videos the Department of Education and Science have created for parents and children attending primary school, with back to school advice.
In the first video message below, Consultant in Public Health Medicine, Dr. Abigail Collins discusses the return to in person learning in primary schools:
Advice for parents
Advice for children videos
Advice for Junior Infants
Advice for senior infants to second class children
Advice for third to sixth class children
2. Posters/graphics advice for parents
See more information on:
https://www.gov.ie/en/publication/a04fc-advice-for-students-and-their-families/#returning-to-school