Athoscailt na Scoile
Reopening of School
A Thuistí,
Tá súil againn go bhfuil sibh féin agus bhur dteaghlaigh ag coinneáil go maith. Tá muid ag súil le dul ar ais ar scoil go luath agus na páistí a fheiceáil arís.
We have been busy over the past few weeks finalising plans for the safe re-opening of our school in line with Government guidance and recommendations.
Reopening the school safely will require the cooperation of all members of our School Community-The Board of Management, Staff, Parents and Students. We will all have to play our part in ensuring that the reopening of the school happens in a safe manner which allows for the vital work of teaching and learning with as little disruption as possible.
With this in mind we ask your co-operation in ensuring everyone's safety. This will require a lot of personal responsibility from everyone in our school community.
---
Preparing your child for school
Explain to your children the importance of social distancing and the reasons for it
Teach your child correct coughing and sneezing etiquette
Every child must have their own pencil case with the necessary materials
Please ensure all of your child's clothing, books and equipment are labelled clearly with your child's name as equipment cannot be shared
Please ensure your child has their own lunch, coat, etc. every day as visits to the school will not be permitted without prior arrangement
Make sure your child can independently open and close their lunch box and bottle, their coat and their shoes. No shoes with laces for younger children
Ensure your child has warm clothes as we will need to ensure good ventilation in the classroom by keeping windows open
Children should wash their hands thoroughly before coming into school and after using the toilet in school. Please practise correct washing of hands at home with your child
Physical Distancing
Bhí orainn roinnt mhaith athruithe a dhéanamh sa scoil.
We have had to make a significant number of changes to the structure of the school day and to school practices. Classrooms have been re-organised to ensure physical distancing in so far as possible.
Physical distancing will look different across the various ages and stages of learning.
Children from Junior Infants to 2nd Class are not expected to maintain physical distance. Children from 3rd to 6th Class are expected to keep a distance of 1m where possible.
Each class will be a 'Bubble'. Contact between bubbles will be limited as much as possible and break times will be staggered so children should only play within their bubble.
Staff will try to maintain physical distance from children when they can, and will wear face coverings where this is not possible.
Children must remain seated in their own seats while eating lunch.
Cleaning
Contract cleaners are employed by the school to carry out daily cleaning.
Books, toys and resources will be cleaned regularly.
Resources will be provided for children individually where possible.
Resources that are shared between classes will be cleaned between uses.
School bags and Lunches
Children from 1st to 6th should have a school only pencil case with only the necessary materials which will be left in school. This pencil case should be wipeable.
Children from first to sixth will require a plastic wipeable box to store their own class books, copies etc. We ask that this box would not be any larger than the following 39cmx28cmx14cm.
(We hear that the plastic boxes are out of stock. Please don't worry, use a Dunnes/Aldi/Tesco… plastic bag and when stock is replenished in the shops you can replace the bag with the box)
We recommend that all books and copies are covered in wipeable covers.
Ensure that your child brings only necessary items to school and that all school bags, lunchboxes and uniforms are cleaned regularly.
Please ensure that your child has enough water for the day.
Personal sanitation packs
The children should have their own personal sanitation packs in their school bags: some hand sanitiser, tissues, and sanitising wipes.
Éadaí Scoile
Tá roinnt tuairimí nár tháinig ó NPHET faoi éadaí scoile. Má tá sé i gceist agat neart athraithe éadaí a bheith agaibh – ceannaigh na cinn gan crest (i Dunnes srl.) Iarrann muid oraibh gan ligean do na páistí na héadaí a chaitheamh ag imeachtaí eile nach bhfuil bainteach leis an scoil.
If parents wish to buy multiple uniforms – please buy the generic non-crested ones available in Dunnes etc. and ensure that the uniform is not worn in other places, to other activities etc.
Obair Bhaile/Homework
Tá muid ag iarraidh go mbeidh na páistí suaimhneach agus sona ag teacht ar ais ar scoil. Beidh cleachtas nua i bhfeidhm ón tús agus ní mór a bheith airdeallach faoi mheabhairshláinte ár bpáistí. Ní bheidh aon obair bhaile á tabhairt don chéad coicís agus déanfar athbhreithniú ar ansin.
We wish our children to be happy and content with the return to school and their wellbeing will be our main priority. No homework will be given for the first fortnight and this policy will be reviewed at that stage.
---
Drop Off Arrangements
Please note that we cannot accommodate children being left on the school yard before and after school.
Junior infants to second class only:
Children enter through the lower double gate and proceed to the infant yard.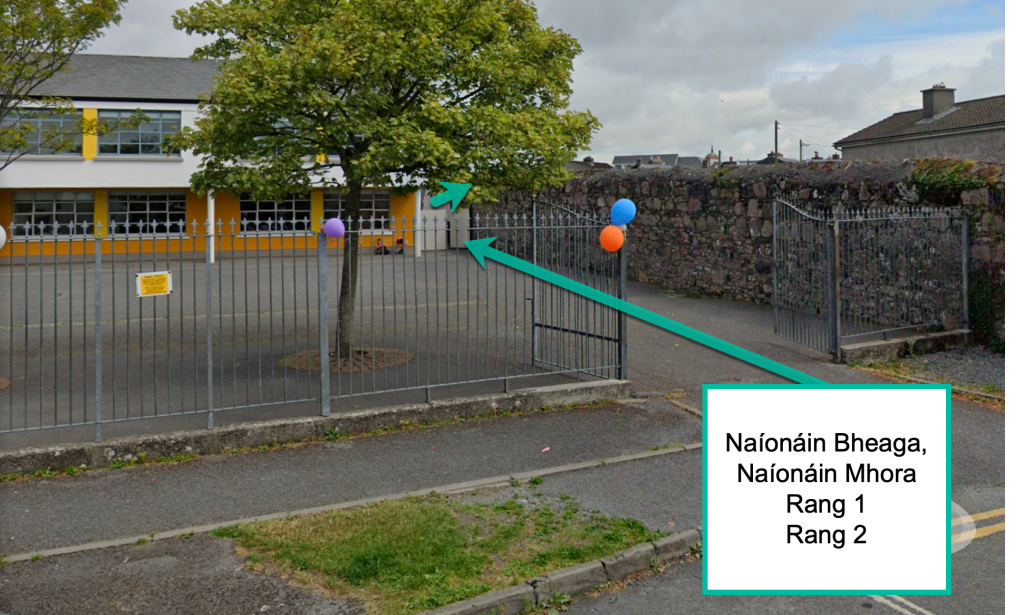 Junior Infants to second class will be divided into three groups and each group has an allocated arrival time. These classes will be collected in the infant yard by their teacher. This designated drop off point will also be their designated pick up point. See tables below.
Na Grupaí
| Grúpa A | Grúpa B | Grúpa C |
| --- | --- | --- |
| Naíonáin Bheaga Katie | Naíonáin Bheaga Aoife | Naíonáin Bheaga Grace |
| Naíonáin Mhóra Norita | Naíonáin Mhóra Mary-Ellen/ Bláthnaid | Naíonáin Mhóra Caoimhe |
| Rang a 1 Emilí | Rang a 1 Caitríona | Rang a 1 Caoimhe |
| Rang a 2 Sandra | Rang a 2 Cáit | Rang a 2 Eimear |
Seachtain a 1: Am Teachta | Arrival Time
| Grúpa A | Grúpa B | Grúpa C |
| --- | --- | --- |
| 8:30am | 8:50am | 9:10am |
Seachtain a 2 ar aghaidh
| Grúpa A | Grúpa B | Grúpa C |
| --- | --- | --- |
| 8:30am | 8:40am | 8:50am |
Third to sixth class only :
Third Class to Sixth Class (who have no siblings in the lower classes) will arrive to the school between 8.40 and 9am.
For those children from third to sixth who have a sibling in the junior classes we request that they arrive to the school at the same time as their younger sibling and go directly to their classroom. e.g. If John in sixth class has a sibling in Grúpa A then John should arrive to school at 8.30 with his sibling and go directly to his classroom. If your child has a sibling in Grúpa B then your child should arrive at 8.50. This arrangement was made to facilitate families in so far as possible.
Note: Children in Group B or C that have a sibling(s) in Group A may make their own way to their classrooms at the earlier drop off time for Group A.
---
Arrival procedures for Rang 3 – Rang 6
Socruithe teachta do rang 3 – rang 6
Children from third to sixth class should enter the school independently and go directly to their classrooms.
Is féidir le páistí ó rang 3 go rang 6 dul díreach go dtí a seomra ranga.
Children from rang 3-6 can go directly to their classrooms when they arrive to school.
Na geataí | Entrances

Na ranganna 3 – 6
A: Taobhgheata A / Sidegate A
Rang 5 Eoin (Seomra 21) agus rang 4 Sarah (Seomra 20):
Tríd taobhgheata A agus suas an staighre eigeandála.
Go through sidegate A and up the fire escape stairs.
Rang 4 Mháire (Seomra 15) agus rang 6 Sinéad (Seomra 16):
Tríd taobhgheata A, isteach an doras agus suas an gnáthstaighre.
Through sidegate A, in by the brown door and up the stairs.
B: Príomhdhoras / Main door
Rang 5 Áine halla:
Tríd an príomhdhoras B agus isteach sa halla.
Through the main door B and into the halla.
Rang 6 Fiona (Seomra 14) agus rang 6 Colm (Seomra 17):
Tríd an príomhdhoras B agus suas an staighre adhmaid.
Through the main door B, and up the main foyer stairs.
Rang 4 Chatríona (Seomra 26):
Tríd an príomhdhoras B agus suas an staighre adhmaid.
Through the main door B, and up the main foyer stairs.
C: Taobhgheata C / Sidegate C
Rang 3 Chlíodhna (Seomra 24) agus rang 3 Deirdre/Caoimhe (Seomra 25):
Tríd taobhgheata C, isteach an dara dhoras agus suas an chúlstaighre.
Through sidegate C, in through the second door and up the backstairs.
Cuir i gcuimhne do na páistí na lámh a dhíghalrú agus iad ag teacht isteach. Beidh neart múinteoirí thart ag tabhairt cúnamh do na páistí.
Please remind the children to use the sanitiser as they enter the school. There will be plenty of teachers in the yard and in the school building to direct the children.
---
Collecting Children from School
1st class to 6th class
The Children will leave the school in a similar manner to their arrival.
Group A and their siblings from 3rd to 6th 2.10pm.
Group B and their siblings from 3rd to 6th 2.20pm
Group C and their siblings from 3rd to 6th 2.30pm
All other students ( i. e. children with no siblings in the lower classes) 2.35 pm.
Junior and Senior Infants
Children can be collected from the Infant Yard at their allocated times.
Grúpa A – 1.20p.m.
Grúpa B – 1.30p.m.
Grúpa C 1.40p.m.
Please note that Junior and Senior Infants may have some alternative arrangements in the first week. Please keep an eye on your email for updates.
We ask that you adhere to these times.
---
Please note:
Initial times of arrival and departure are spaced apart in order to avoid chaos of a large number of pupils coming through at the same time.
This arrangement is subject to and will change. Please check your school emails on a regular basis.
Mar a deireann an seanfhocal cleachtadh a dhéanann máistreacht (practice makes perfect) and these initial times will change. We are a large school and have limited accessibility. If we need to amend or change this plan we may have to do so at short notice.
For more advice on returning to school from the Department of Education and Skills see also gov.ie/backtoschool
---
Appointments with the school
Due to COVID-19 please note:
No entry to school without an appointment via email or phone
All visitors to the school must sign in and complete a contract tracing log in the foyer.
---
Communication Procedure
All correspondence will be sent to parents by email or text. Déan cinnte go bhfuil tú ar Aladdin Connect
Messages for teachers can be sent by email (<Firstname> @scoiliognaid.ie ).
If a parent needs to speak with a teacher or vice-versa, best practice is to do this by an arranged phonecall. Appointments in the school building will be kept to a minimum and will only take place by prior arrangement with the school principal
If information needs to be given to the teacher during the school day please contact the school office by phone or by email.
---
Athoscailt na scoile – Comhairle on HSE
COVID-19 Comhairle do thuismitheoirí
Siomptóim le bheith ag faire amach dóibh agus cathain
teagmháil a dhéanamh le do dhochtúir teaghlaigh
COVID-19 Advice for parents
Symptoms to look out for and when to contact your GP
---
Ráiteas | School Policy Covid 19
---
Dhá físeán ón Roinn Oideachas & Scileanna